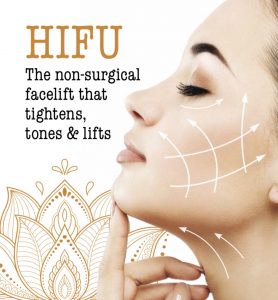 What is it?
HIFU – High Intensity Focused Ultrasound, is a non-surgical, non-invasive procedure that uses focused ultrasound and the body's own healing process to lift, tone and tighten your skin. The latest clinically proven technology for face lifting, toning and the reduction in the appearance of fine lines and wrinkles. Get amazing results without surgery or downtime!
How does it work?
Using ultrasound technology by delivering precisely focused beams of ultrasound energy to three different depths within the skin layers. Delivering heat energy to the skin and subcutaneous tissue then stimulates the body's natural healing response and results in the formation of new collagen, leading to long-term tightening. Unlike lasers, Ultrasound delivers energy specifically into the structural tissue where collagen lives.
Where can be treated?
HIFU is carried out mostly over the entire face, areas most affected by the loss of tone such as the eyebrows, under eye, cheeks, neck, jawline, under the chin. These areas respond well to HIFU therapy. Depending on each person's needs, the treatment can be carried out over the entire face or on targeted areas such as the jawline to redefine facial structure, eye area can be targeted to lift eyebrows, smooth fine lines around the eyes and open up the eye.
The results
The results are long-lasting and you can expect smoother, firmer and brighter skin in the months after your treatment. Because of the restored elasticity, your skin will also feel softer and suppler. It can take up to 6 months to see the final results from your HIFU treatment. Ultrasound works from the inside out, results build gradually over 2-3 months and can continue improving for up to 6 months. Seeing a drastic change from before and 3-6 months post-treatment.
The difference between HIFU and regular facelift?
Cost-wise HIFU treatments range from $499 with NO DOWNTIME. Pricing is variable according to the areas being treated. Whereas a surgical facelift is often out of reach with a significant amount of downtime. I'd much rather a HIFU treatment as opposed to going under the knife! Surgical facelifts and HIFU procedures cannot be compared to each other entirely although the results may be similar.
The Cost?
The cost varies according to the areas you wish to treat. Although a guideline for the most common is –
Jawline, Neck & Chin Sculpting – NEW TREATMENT LIMITED OFFER $490
Full Face, Jaw Line, Neck, Chin & Brow Sculpting – NEW TREATMENT LIMITED OFFER $590
How many treatments do I need to see results?
Depending on your concern and treatment area, 1-3 treatments may be required to achieve optimum results.
How long do the results last?
Results vary for each client and how well you are following aftercare guidelines at home however results will usually last anywhere between 12-18 months, after 18 months a top-up treatment is recommended.
Like to get started!?
BOOK IN HERE or call us to book a free consultation – 9545 6885.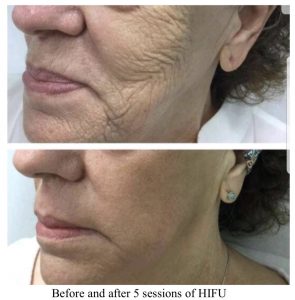 P:S These results are after 5 sessions. 1-2 sessions are usually all that is needed!